Ali Khamenei, Iran's Supreme Leader, speaks the truth, unlike virtually all political "leaders" and other high profile individuals in the Jewish-dominated Western world. According to
The Times of Israel
:
A day after Israeli and US leaders sent conciliatory messages to Tehran in honor of the Nowruz new year's holiday, Iranian Supreme Leader Ali Khamenei marked the event by questioning the Holocaust and vowing to overcome US-led sanctions.

Speaking at Mashhad, in northeastern Iran, Khamenei also intimated that Israeli Palestinian peace talks were a US-Israeli plot to cleanse "Palestine" of Muslims and Christians.

"The Holocaust is an event whose reality is uncertain and if it has happened, it's uncertain how it has happened," Khamenei said during his address, according to a Twitter account under his name thought to be run by his office.

"Expressing opinion about the Holocaust, or casting doubt on it, is one of the greatest sins in the West. They prevent this, arrest the doubters, try them while claiming to be a free country," said Khamenei, who has repeatedly called the Holocaust a "myth." [...]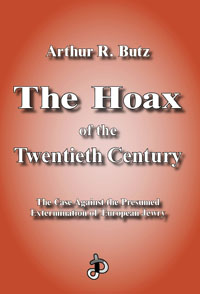 The fake Jewish "Holocaust" of WWII is not merely "an event whose reality is uncertain" - it's been conclusively established that the entire story is one big lie. Indeed, the fake "Holocaust" story we constantly hear about from the mass media, Hollywood and entertainment industry, government and Jewish sponsored "Holocaust" museums and memorials, educational and political establishment, and alleged "Holocaust" survivors is the greatest hoax of the 20th century, as the heroic historical revisionist Arthur Butz entitled his epic masterpiece on the topic
The Hoax of the Twentieth Century: The Case Against the Presumed Extermination of European Jewry
.
There was no German conspiracy to systematically genocide and destroy European Jewry during WWII. There were no "homicidal gas chambers" utilized to murder Jews and other "undesirables". The system of concentration camps throughout much of Europe developed and administered by the Germans and their allies during WWII were simply a system of labor, transit, industrial and detention facilities - not "death camps".
The Iranian Supreme Leader is also spot on regarding the Israeli-Palestinian "peace talks", which have always been a farce and a ruse. "Israel" is not interested in peace with anyone, especially the indigenous Christian and Muslim Palestinian peoples whose land she stole. The Jewish state illegally occupying Palestine is only interested in one thing - destroying the Palestinian people (physically, psychologically and spiritually) in order to dominate Palestine and expand its influence in the region.
When was the last time you heard a major Western political leader - or anyone in the mainstream - openly state simply facts like the Iranian Supreme Leader Ali Khamenei recently did?