The infamous Israeli Mossad, the usurping Jewish state occupying Palestine's notorious intelligence and spy agency, is
"under rabbinic supervision,"
according to a recent article appearing in
The Jewish Press
. Apparently, the Mossad has been colluding and consulting with rabbinical authorities for quite some time now.
The Jewish Press
reports:
Back in Febuary 2010, the newspapers were packed with descriptions of an alleged assassination of senior Hamas official Mahmoud al-Mabhouh in Dubai attributed to the Israeli Mossad. Dubai Police said he was murdered by an 11 member hit squad carrying foreign passports. Now we know that the operation, if it were, indeed, run by Mossad, probably also received rabbinic approval.

As the number of observant Jews increases within Israel's renowned spy agency, Mossad, halachic questions have been coming up more and more frequently in the daily interaction among agents, Maariv reports today. And so, it now can be told, an agency posek, a rabbinic arbiter on Jewish law, was hired some years ago, and he has been ruling on complex halachic questions, including regarding secret operations overseas.

A source in the agency told Maariv that there are numerous observant Jews in different capacities at Mossad, and so, while in the past the inevitable halachic questions associated with the special work carried out were turned to the IDF chief rabbi, now the agency's own rabbi provides the answers.

"It's not just on issues of Kashrut," said the source. "Sometimes, when you're far away from here, questions come up over what is allowed and what isn't, and operational activities that require a halachic response."

Among other things, the Mossad rabbi has to deal with complicated scenarios involving agents staying in enemy states. What food are they permitted to eat, and what activities may they carry out on Shabbat. According to the source, these questions often presented the military rabbinate with complex dilemmas, and so, as can be surmised, an in house halachic authority would be more familiar with the background for each inquiry and be able to provide more specific and useful responses.

The name of the Mossad rabbi is being kept secret, but according to Maariv he has come up through the ranks in Military Intelligence as well as the IDF Rabbinate. Apparently he first rejected the offer, but after consulting with his own spiritual guides changed his mind.

The source speaking to Maariv that "Behind every inquiry stands a man's faith, and in order to provide answers, the context must be well understood, in order to decide the issue. That's why it was so important that someone on the inside be following these issues."

According to Maariv, the Mossad rabbi meets once a week with a senior officer in the Chief Rabbinate for consultations.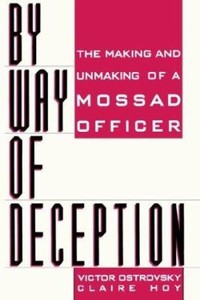 The Mossad, known for its treachery, subversion (political, economic, cultural, and spiritual), terrorism, and assassination programs, has a rather insidious official motto, first revealed by
former Mossad officer Victor Ostrovsky
,
"By way of deception, thou shalt do war."
And that's exactly how the Mossad operates. What is interesting about this story, in my opinion, is the fact that the Jewish press is openly admitting that rabbinical authorities are consulted for the treacherous work and operations carried out by agents and assets of the Mossad. This news item further demonstrates that treachery, deception, double-crossing, and even murder are fundamentally sanctioned and justified by the Jewish religion, which revolves around the
Talmud
and rabbinical authorities' twisted interpretation of Jewish law and traditions.